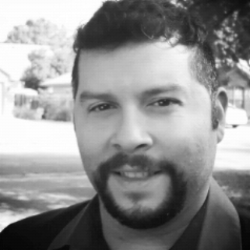 Originally a criminal justice major, Leo Gonzalez first came across computer graphics when his passion for games led him to a hobby "modding" PC games in 1998. Soon after, Leo began his computer graphics career working in the enterprise space, specializing in off-line rendering and lighting in the advertising, architectural, and design visualization industries. An entrepreneur, Leo also founded an online startup, providing consulting and training for companies in the entertainment and manufacturing industries.
In 2011 he switched industries to AAA games and entertainment, having worked on successful franchises and IP's, such as Call of Duty, Halo, Lost Planet, and more. Within the real-time games industry, Leo works in several roles, specifically lighting, VFX, technical art, visual development, and art direction. Leo is an expert with several real-time technologies, including Unity and Unreal Engine 4, having created hundreds of hours of Unreal Technology training over the years.
A Lead Environment artist with over 10 years of professional entertainment industry experience. Having shipped multiple titles, such as Bioshock 2, The Bureau: XCOM Declassified, Lost Planet 3, and Call of Duty: Advanced Warfare. He also has film industry experience, having worked at studios like Digital Domain. Recently, Brandon has taken a keen interest in education, teaching at the college level for the last 5 years at institutions like the Art Institute and Expression College.
Brandon is a real-time rendering expert, having worked with proprietary engines, as well as popular tools such as Unity and Unreal Engine 4. He is also the founder of Game School Online, a completely free, online training platform that is evolving education, by democratizing game development education- making the highest quality education free to everyone with an internet connection.